Mandate
Blue Bridge Repertory Theatre is a Victoria, BC based, incorporated, professional, non-profit theatre society that fosters community spirit and cultural awareness through play production and workshops and offers:
 
Significant creative, production and management opportunities to emerging professional theatre artists wishing to pursue a career in the arts
Opportunities for young actors, directors, writers, producers and other career professionals in this field to train for, participate in, and occupy major creative, production and administrative theatrical roles alongside established theatre artists
The opportunity for these artists to develop, exchange and experiment with new techniques and ideas in the theatre – particularly as these techniques and ideas relate to the production of those classic works drawn from, or new works inspired by, the European and North American theatre traditions;
 The opportunity to promote equity in our community by proactively engaging with historically underrepresented groups through the development of new works inspired by the 'classics' or 'classic' sources;
The audiences of Greater Victoria its own professional theatre company that focuses on these masterworks, or new works inspired bythe 'classics' or 'classic' sources.
Mission
Blue Bridge Repertory Theatre was founded on the belief that, no matter what their size, great cities deserve great theatre.
Boasting its own opera, symphony, public art gallery, professional theatre training institutions and a host of medium to smaller professional theatres, Victoria, BC (population approx. 350,000) is remarkable for the range and diversity of the professional arts activity that it supports.
Although the theatre audiences of Victoria have been well served when it comes to seeing the best professional Canadian, cutting edge and youth theatre, they have lacked a professional company that dedicates itself to presenting fresh interpretations of the great works from the past – the 'classics'.
BBRT has filled this need. Based on the belief that vibrant cultures are those which view the present, past and future with equal energy and clarity, BBRT's aim is to give Victoria based artists, technicians and administrators the opportunity to build a remarkable new theatre company that offers audiences timeless visions into the world's great plays.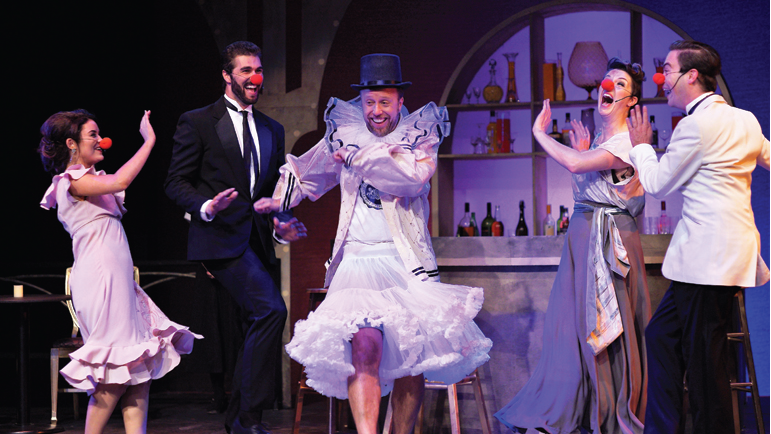 History
Led by Founding Artistic Director Brian Richmond, Blue Bridge Repertory Theatre was founded in 2008 by a team of well-established and exciting early career theatre artists and educators.
BBRT has completed 11 critically-lauded and well-attended seasons. In this time the company has presented 47 multi-award-winning productions and/or events. Enthusiastically received by the public, the media, and the community-at-large, these seasons have;
drawn more than 100,000 audience members to its events and shows
seen BBRT win 17 and receive 36 nominations in the Victoria Theatre Critics' Annual Spotlight Awards (Victoria's only juried awards system)
offered more than 400 early career opportunities to young theatre artists, technicians and administrators who have recently graduated from Victoria, BC and Canadian theatre training institutions
injected more than $ 8 million directly into the support and sustainability of the Victoria arts community
seen BBRT hailed by local media as being the "most important cultural event to take place in Victoria in decades" (Times Colonist) and one that produces "work as good as any seen on any stage in Canada" (CBC)
Rebekah Johnson, General Manager
Rebekah's varied career spans over 35 years as a lighting designer, stage and production manager, and administrator.  In 1985 she, along with late partner Robert Garfat, formed and ran Dark Horse Theatre in Vancouver.  This award winning theatre company produced critically acclaimed work by Canadian Playwrights John Mighton and George F Walker, among others.  During this period Rebekah was active in the Vancouver professional community designing and stage managing for The Firehall Arts Center, Touchstone Theatre and Mascall Dance, among others.   In 1996 the theatre company was relocated to Victoria and subsequently disbanded.  In 1997 she and Robert opened and operated Dark Horse Books in downtown Victoria, and Rebekah continued to be active as a lighting designer, designing for The Belfry Theatre, Kaleidoscope Theatre, as well as Western Canada Theatre, Sunshine Theatre and Theatre North West.  With the rise of Blue Bridge Theatre on the Victoria scene, she added that company to her resume, designing 'Who's Afraid of Virginia Woolf',  'Little Shop of Horrors' and 'Brighton Beach Memoirs' before taking over as General Manager in 2013.  Rebekah is the  recipient of 2 Victoria Theatre Critic's 'Spotlight' Awards, as well as several Jessie nominations.  She continues to design not only the majority of Blue Bridge Productions, but also for Atomic Vaudeville, Chemainus Theatre, and most recently Persephone Theatre.